Post by chewiemonster on Jan 13, 2014 21:21:07 GMT
I made a few quick wigs for my freya and freyr and wanted to share an easy way to do em featuring my messy work space and Penny. I can't take full credit for this, I think there was a DOA tutorial for a very similar no measure method for regular noggins but figured it could be useful here! I used about 6x5 inches of fur for this wig.
First:
Take your bit of fur and hold it against your doll's noggin. Mark off on the wrong side of the fabric a rectangle that goes halfway around the head and up to the ear line. Leave a little extra length for the seams and a little height to hem the front.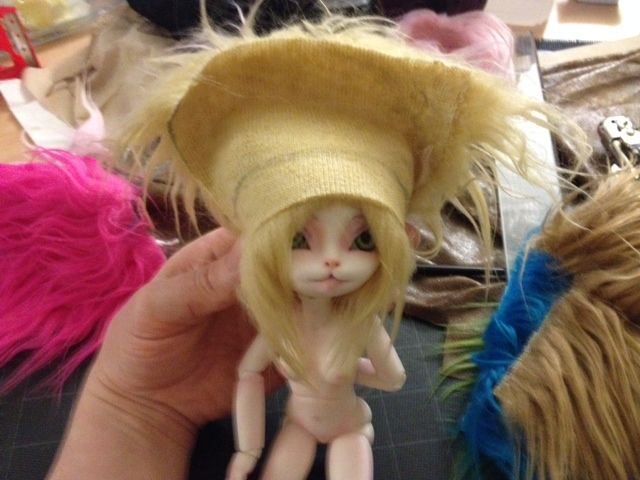 Then, you can use scissors, but i strongly prefer an exacto blade to cut out that rectangular segment. Much less chance of trimming the hairs you don't want trimmed!
Ta da! Now wrapping that piece around the noggin, see how much more room there is to cover in back. You can use another color here to have a two toned wig, or the same color. Mark it off to get a similar rectangle, cut and sew together good side to good side.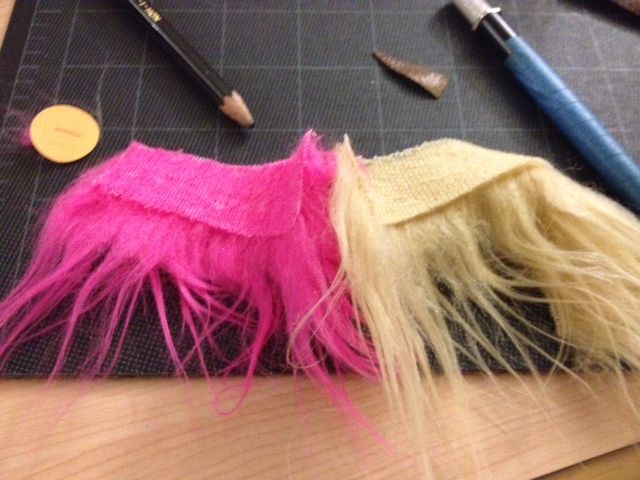 Then I sew the other two fur sides right while on the head to create this band like below.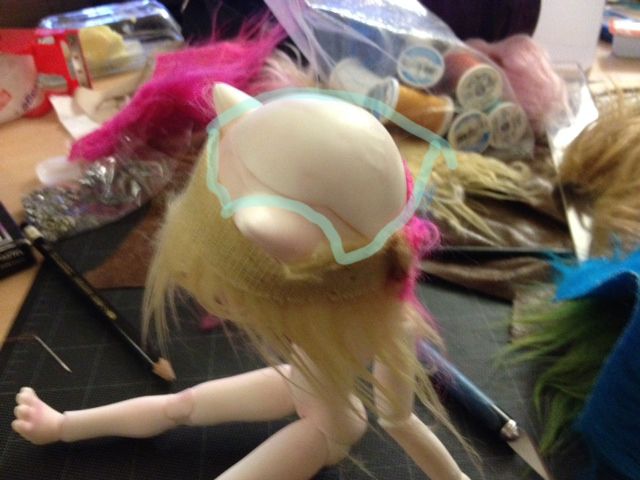 Now you're going to want to fill in that top area marked in blue. Take your fur again and mark out a rectangle again that goes from front to back filling in most of that top noggin area. Your rectangle should get a little wider towards the back to cover in the space behind the ears. I sew right on top of the head front to front, then back to back leaving the sides against the ears open. Your fur side will be down against the head again.
Doing so will leave you with these spaces around the ears: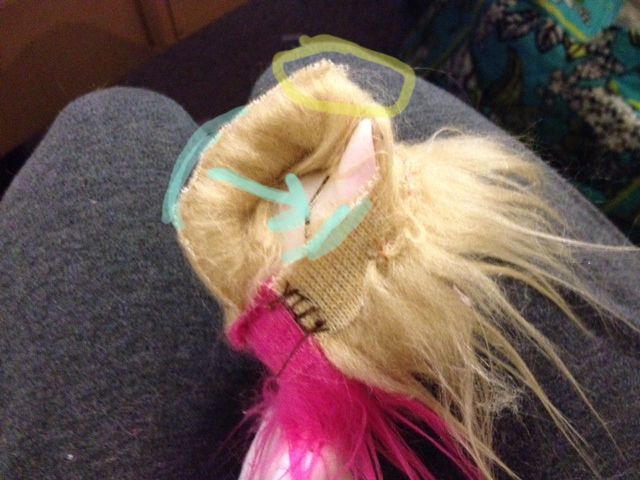 Go ahead and sew that on down from blue spot to blue spot. You might have some extra fur hanging out around the front of the ear (in yellow). You can sew that back as a hem!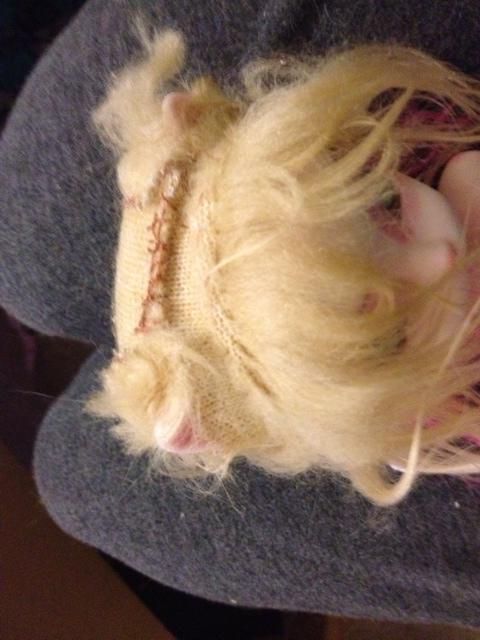 Now your wig should look like a hot mess and turned inside out. I find it's easiest to hem the front bang part while it's like this. Pull a little fabric over the front part backwards and stitch against the fabric. Here is a good example of the stitch for that where you don't actually go through the other side of the fabric:
How to sew a blind hem
You just kinda slip the needle between both layers without going through the bottom.
Now turn your wig right side out and comb!
Tada! Good job having hair Penny!